As we hurtle into the last month of an unpredictable year, we bring good tidings of great joy of our own: a mini update on what we have been building.  
On our radar, is the government's National Data Strategy which shows there are still many barriers to harnessing data to its full potential. Here is a quick summary: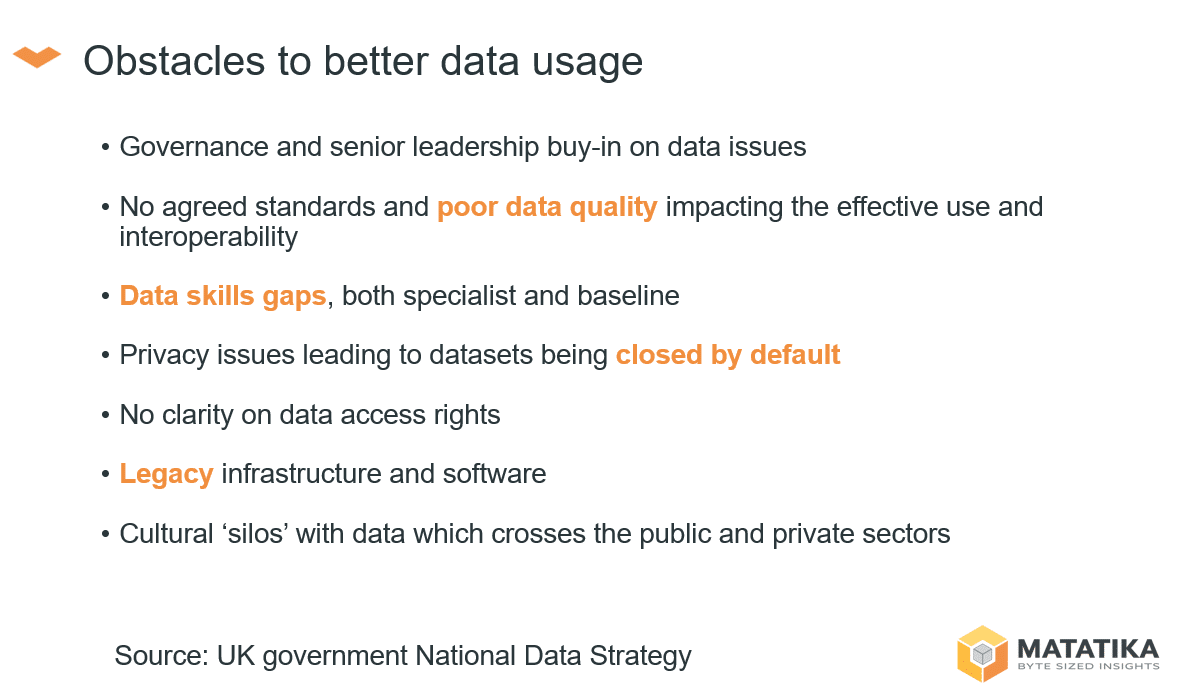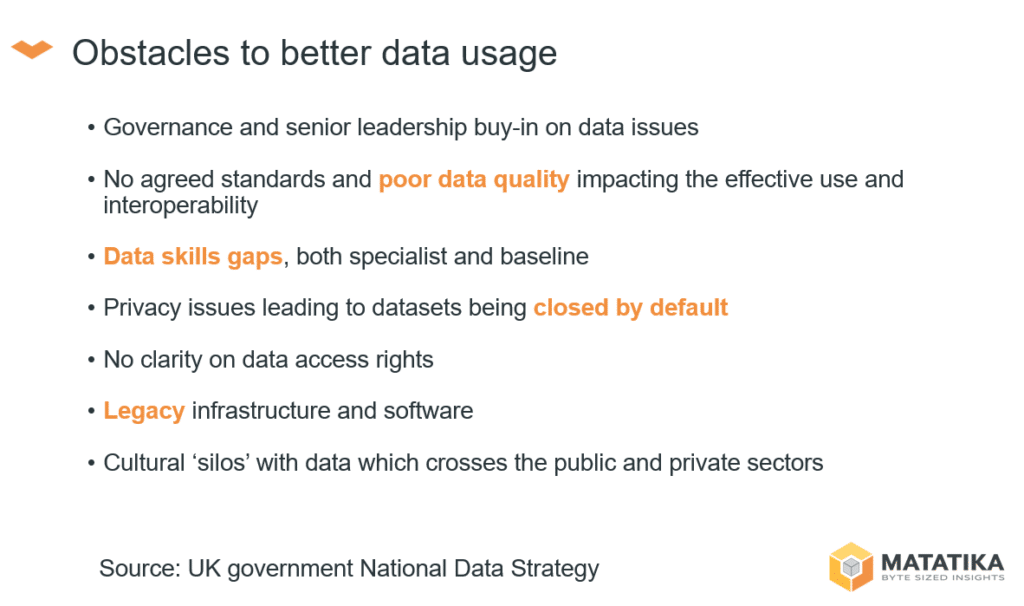 We take these very seriously. We are addressing these obstacles as we build and with a background in Fintech, we know things like certification is really important for reassurance.
Nothing here comes as a huge surprise to us. The economic polarities of this year have shown winners and losers and a significant differentiator was that the winners generally had their data ducks all in a row.
Tucked away in all corners of the globe, Start-Ups are attempting to democratise technology to address these challenges. Among them Matatika is working away to realise our new platform.
We have not lost sight of the bigger picture: now, more than, ever, business cannot afford to be inefficient. We are looking at the tech landscape and we have listened to businesses talking to us about their struggles with data lakes, and we think we have found an unmet need in the process of turning information into knowledge.

When it comes to making decisions, forecasting and strategy, data is not the whole picture. After all, how many times have you stared at a spreadsheet with no idea of the story the numbers are trying to tell you?
Data-derived knowledge is the real value. So Matatika is chasing insights and these should be reliable, easy to find, quick to generate, and easy for you to discuss in real time with collaborators.
We call these our byte-sized insights
See what we did there?*
*Credit goes to Aaron's eleven year old who came up with that one. Proving that insights can come form almost anywhere.
When used properly, it can make a huge difference. For a start: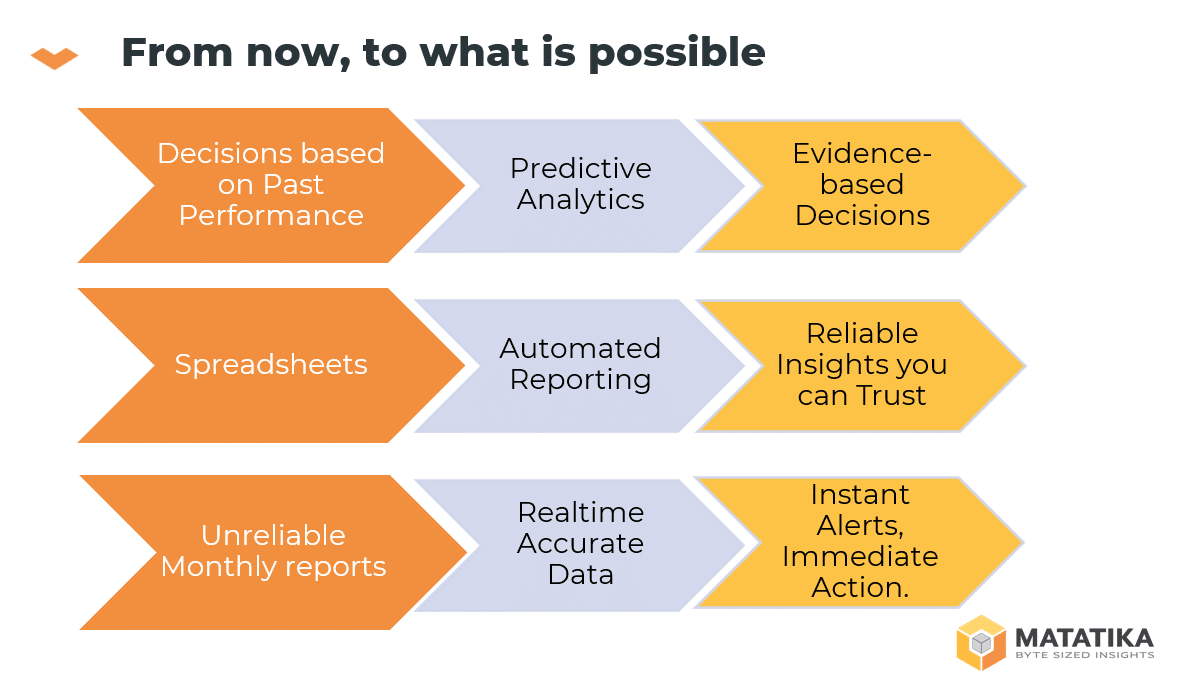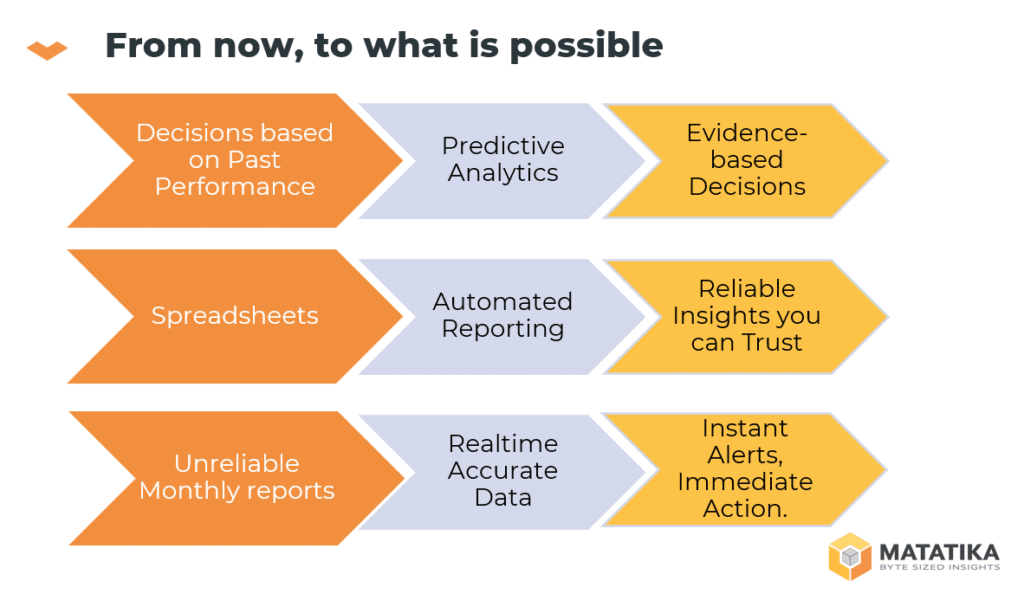 Using increased automation to work faster with better quality data, Data Heroes lead the way. Business Stakeholders can feel immediately more confident. Real-time, accurate information beats monthly reporting, especially if it is already three weeks old.
So where do we sit with our competitors? First, we don't really see anyone that way. There are some amazing companies out there that we collaborate with and we are planning a massive integration push for early 2021.
Sure, there are sophisticated dashboards and well-resourced companies who are building in house models… but you are still left with a lot of plates spinning in the air.
Where can you get an end to end platform to bring it together?
The mini Matatikans are repeatedly taught "Show don't tell" at school. That is essentially what we are trying to do too: reports will tell you what is going on; Matatika's platform with its AI capabilities will show you what you need to know.
And that is the game-changer.
Did you know? There is a real person behind our chat function during business hours (and no such thing as a stupid question)?
Come and say hello, or follow the contact us links on any page of the website.
Developers: Have you seen our DEVELOPER SERIES videos? Short videos on Jupyter Notebooks, Tokens, Postman and our product.