TL;DR
Shopify and all your other sources in one workspace
Import spreadsheets into your data warehouse with no code
New ways to customise your users' workspace
Another busy month at Matatika towers has gone by and our focus has been on even more ways to reduce the distance from data collection to data insights. As it is impossible to avoid the doom and gloom of "market adjustment" reporting going on right now, we are delighted to be in the business of growing customers' revenue by improving data infrastructure and turning data into insights. Hooray!
Save money on infrastructure by customising our out-of-the-box workspace solution
Delay hiring data teams while you scale
Iron out processes that waste time and money with a company-level data overview
Automate data flow for accuracy and a higher value workforce
Support change with accurate predictions based on live metrics
Share data securely with third parties to drive knowledge and innovation
Read on for the full update
---
Move your Shopify data, move your success dial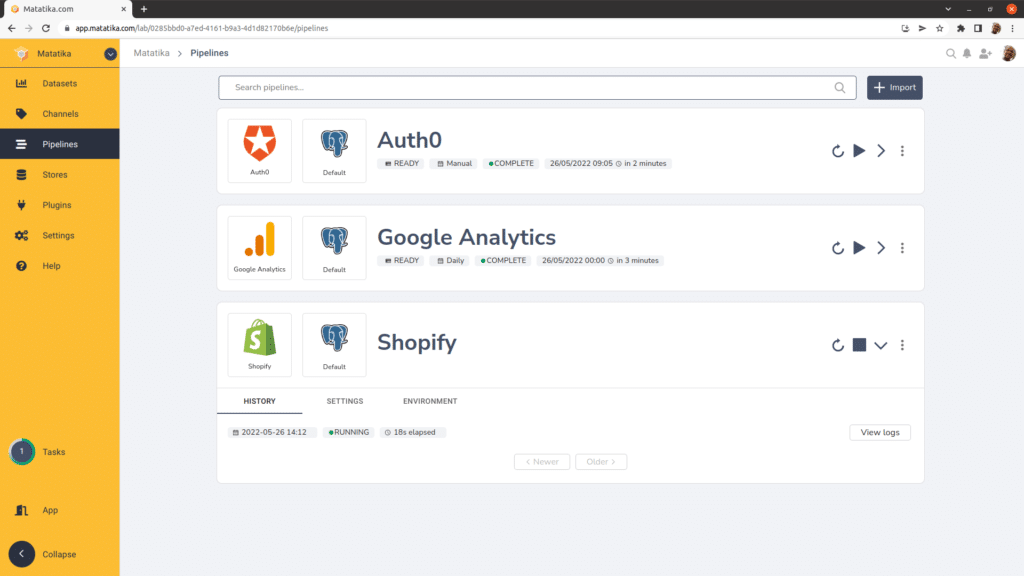 The single biggest obstacle to scaling on Shopify is integrating their information with the rest of a consumer's journey. If a company is growing, there comes a point where they need to move data through a data warehouse. This shouldn't be difficult but it is.
Well, was.
Now it's possible to move Shopify Data into Postgres or Snowflake.
"But all in one place?" They cry, "that's insane!" – imagine how much you could find out about a single customer if all their information were in the same place?!
Page views, cart items and purchases are great. But demographics and data trends are the game changers. There are valuable insights to be found in the raw data. Combining Shopify and Google Analytics data shows much more about Customer Lifetime Value (CLV), so you can improve with accuracy and confidence
And if you are one of our SaaS customers, the demonstration that you have a data-led customer acquisition strategy may be the differentiator in this tight funding market.
Data Sources link in our Documentation

Import your Google Sheets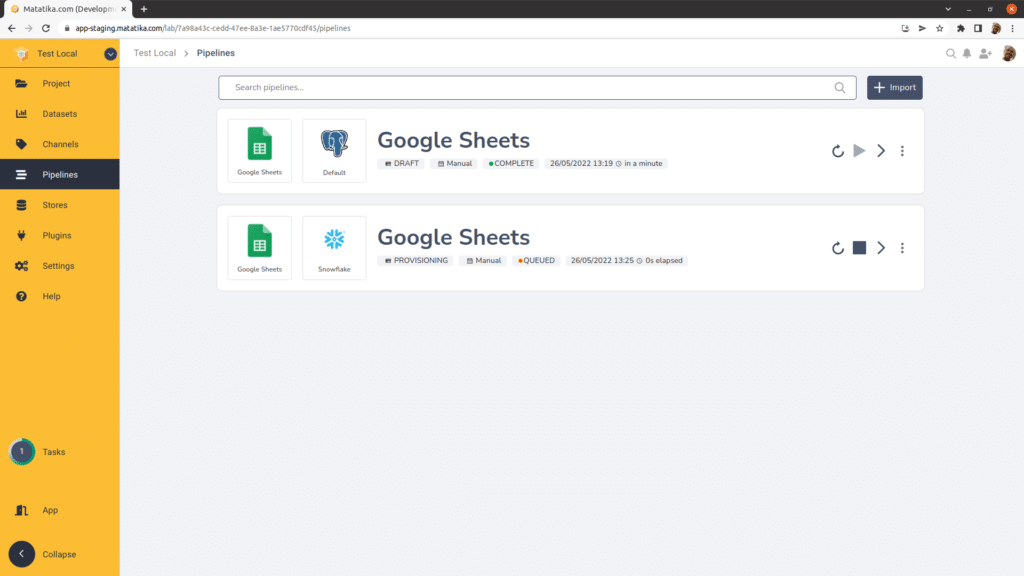 Up there with game-changing ways to operate in the new hybrid world of work, it is now possible to import spreadsheets into a shared workspace. Critical in our roadmap of automation for accuracy, this connector will make data available faster, and in a format which is ready to use.
More innovative users for importing data can merge internal and external data sets. For example, trends that have already been identified as seasonal can be plotted alongside weather information. Or customer trends against the NASDAQ data… – the opportunities are endless.
Customised Welcome Screen
Without getting back into the low code / no code debate, we will just say that allowing a developer to set up a workspace exactly how they want AND allowing a person with low tech literacy to navigate that workspace with confidence are of equal importance to us.
Which is why this month we have released the Customisable Welcome message.
Workspaces can give access to anyone with permission, internally or externally. Newsfeeds are personalised so each person can see the data most important to them. Inviting new people to a dataset allows workspace owners to be specific about what they would like their invitees to focus on.
---
It's Platinum Jubilee Weekend next weekend in the UK. Which means lots of tea, cake and scones in honour of the Queen for four days in a row. We're taking a well-earned break. See you on the other side.