How ImpactGrows built an ESG Data Hub with Matatika
ImpactGrows helps corporates achieve their sustainability goals with an end-to-end platform for automated reporting, management, and deep analytics of Environmental Social, and Governance (ESG) information.  A company embarking on a sustainability journey needs to consider its maturity, community sentiment, peer benchmarking, materiality mapping, goal setting, strategy & risk.  At every step, trusted data is key to tracking, decision-making, and evidencing sustainability-linked lending – a $1.6 trillion lending product in 2021.  
The Challenge:  Collection, processing, and ongoing change management of corporate emissions data at scale
A vast number of data sources, systems, and locations

Rapid deployment with centralised change management

Scalable processing model capable of dealing with large and small quantities of data

Stand-alone and cloud operating models
For ImpactGrows, rapidly delivering an elegant total product solution is extremely important.  Lengthy client implementations and constant maintenance would make it impossible to deliver projects at the volume required for a sustainable business.  However, reporting on a company's impact on the environment and society is complicated since it requires data from a vast array of sources.  The solution would need to deliver trusted data from the breadth & variability of sources, and at the same time be simple to operate.
The Solution:  Matatika managed workspaces
Collection of data from MongoDB, MySQLDB, PostgresDB, and CSV files

Customisable datasets and dashboards embedded into ImpactGrows UI

Standard data models for ESG reporting

Client-managed ESG data warehouse

Client-managed upgradable solution

Processing of data with both schedules and adhoc jobs

Secure API integration and data collection

Cloud, on-premise, and development environments

Excellent collaboration between Matatika and ImpactGrows development teams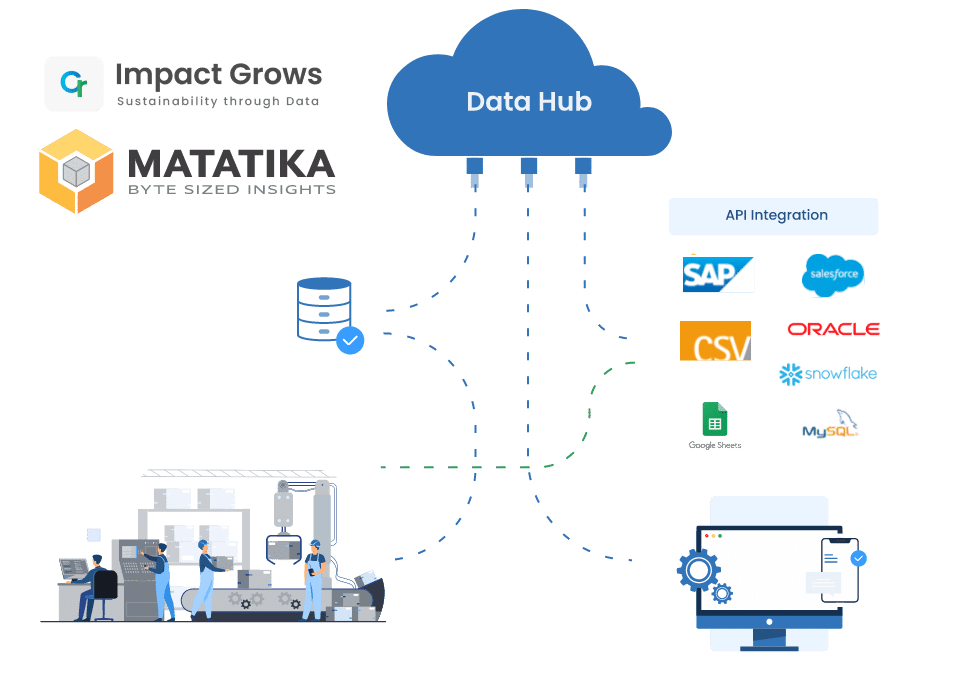 ImpactGrows and Matatika have achieved a robust and seamless solution for the aggregation of ESG data within a very short period of time.  The current solution has been proven with data collection from spreadsheets, a number of SQL and NoSQL databases, and ImpactGrows' own product.  With Matatika's 100s of data sources, the ImpactGrows team is confident that ESG reporting from any client source will be produced correctly and have a straightforward implementation.  Operational stability, error handling, and upgrade are taken care of by the Matatika Platform – giving ImpactGrows business the confidence to scale. 
Data collection automation
The ImpactGrows Data Hub collects emissions, energy, employee, and a wide range of data points from a client organisation.  This information is often captured in many different ways, across many different sites.  Some typical examples include databases, SAP, HRMS platforms, IoT sensors, spreadsheets, and many more.
Data processing
Once the raw data has been collected, a staging set of client-specific models prepares the data for use in standard ESG reporting models.  The Matatika Platform manages the data preparation, correctness, and upgrade when these models are inevitably improved over time to meet the changing ESG reporting requirements.
Data access control
ESG data artifacts can have many destinations and formats.  These include publishing of datasets to public interest groups, reports to management, KPIs to operations teams, and adhoc analysis within the ImpactGrows platform.  With Matatika, the ImpactGrows platform is capable of meeting all their user requirements now and in the future.
Data monitoring
Users of the ImpactGrows product typically undertake a maturity assessment, sentiment analysis & peer benchmarking, materiality mapping, and goal setting.  A key achievement of the ImpactGrows <> Matatika data hub is the ability to feed users dashboards with information in real-time in addition to the standard period reporting required by regulators.
"An organisation gathering ESG data with the ImpactGrows and Matatika solution has some of the highest fidelity and trusted information on its total impact vs any organisation in the world.  The future of sustainability-linked operations is very bright indeed." – Aaron Phethean, Founder and CEO, Matatika
Result: Rapid implementations with scalable data orchestration
Reduced implementation times to hours or days

Support of any data source the client might bring

Upgradable business modules

Self-service in App analytics

Scalable business and technology model
ImpactGrows now have an end-to-end solution that is both simple to operate and immensely capable.  They can confidently implement at any client, and know that the data architecture is robust enough to deal with any source at any volume.  Deployment options and demo scenarios are successfully covered with a secure, portable, and completely integrated suite of services from ImpactGrows and Matatika.  A sustainable platform for sustainability goals has been achieved.
"ImpactGrows and Matatika have put together a truly world-class solution with a world-class team.  We are now making expansion plans that we believe will move the dial on global sustainability.  Environmental, Social and Governance is more than corporate responsibility – it is our once in a generation responsibility." – John Santhosh, Founder and CEO, ImpactGrows