Do you ever feel like something is so amazing it must be magic?  Well, I have a surprise for you that might be magic!
Over the past few months, I've been curious about how people find, share, and consume information.
How do we use machine learning tools?
How do we create data visualisations?
How do we publish and consume information?
How do we interact with information?
There's an almost random process that brings about new insights.  Humans process information in ways that we are nowhere near able to replicate with machines.  Artificial intelligence does exceed human performance in some areas of course, but I'm reminded of my son's assessment of AI and its limits.
"AI is good at answering questions, but can it ask questions?" – (Noah, age 10)
And we sure do ask a lot of questions.  Google processes trillions of searches every year.  More stunning than the sheer quantity, is the fact that 15 percent of searches Google sees every day are totally new.
https://blog.google/products/search/our-latest-quality-improvements-search/
But, this random and hungry desire for information, doesn't seem to match the way we are able to deal with information in a typical organisation today.  Why do we have dashboards, reports, and glacially slow ways of using information? That's not how we like to work as humans.  Looking at google and all the social media platforms, we want to share information and we want to ask questions.
So, I decided to build a prototype App that demonstrates how information could be published and consumed in a more engaging and natural way.  Here's a rough sketch of how it works.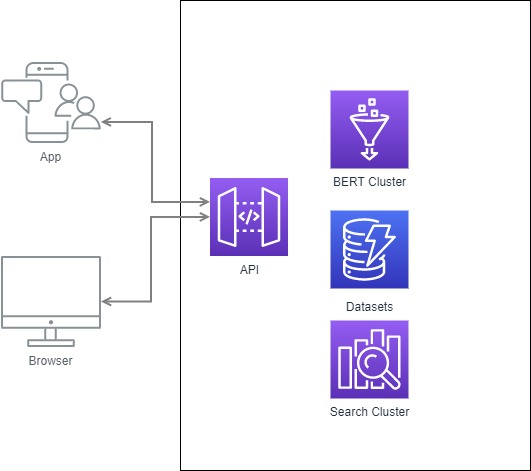 We want Apps – an App that delivers a feed of insights directly to your phone.
We want to ask plain English questions – using Google's BERT, pre-trained neural network-based natural language processing (NLP), you simply ask plain English questions.
We want really fast results – your question is encoded into a large number of points which represent its meaning with context, the closest (similar) sentences are found in the published information to help you instantly find the insights that matter.
We want it anywhere, anytime – we make use of the practically infinite processing power in the Azure Cloud with Kubernetes.
We want to improve the service without interrupting your flow – we are using automated testing and releases, and already delivering dozens of times per day.
Or put another way.  Simply magic!
I hope you've enjoyed this Byte Sized Insight.  Get in touch if you've seen anything that sparked your imagination and simply Click Subscribe to get our insights direct to your inbox!